Connecticut Homeowner mandates – understanding the $12 annual fee.
Recent media reports have highlighted the additional charges being added to Connecticut homeowners starting in 2019.   The Connecticut Substitute House Bill No. 5209 requires insurance companies, beginning on January 1, 2019, to impose an annual surcharge of $12.00 on Connecticut homeowner, dwelling fire & renter's insurance policies to be paid to the Connecticut Healthy Homes Fund  Affected homeowners facing crumbling foundations can apply to the state specific fund for assistance.  The state estimates over 35,000 affected homes in the northern, eastern, and central parts of Connecticut who face potentially devastating damages due to the presence of a naturally occurring iron sulfide in their concrete foundations.  To learn more about this recent legislation or how you can apply to the state specific fund click here.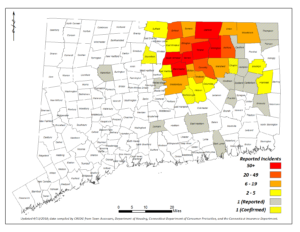 The crumbling foundation legislation is the result of the several affected homes in Connecticut who are experiencing foundation losses.  The damages have developed from the mineral, pyrrhotite, which is the iron sulfide mineral in these foundations that causes slow deterioration of concrete foundations when exposed to oxygen and water.  While the presence of pyrrhotite indicates the potential for concrete deterioration, its existence alone does not necessarily cause it.  As a structure continues to deteriorate, it often becomes unsafe.  Cracking, flaking, bowing, and separation of the concrete has already appeared on some homes built between 1983 and 2015.  The defective concrete in these foundations originated from a quarry in Willington, Connecticut.
The damages start as small cracks and grow into larger cracks over time.  Extensive cracks and crumbling can take up to a decade to appear on foundations. Horizontal cracks or cracks that splinter out like a web have the most significant concern for homeowners.  In addition to the cracks, a rust color or white powder might be visible. In some cases, basement dry wall in finished basements may require removal so interior concrete can be examined.  Although in most cases, damage is often noticeable on the outside of homes.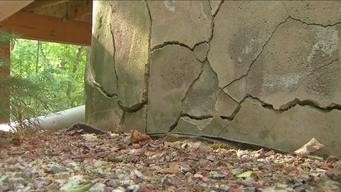 These concrete damages are irreversible and effective repairs require replacing existing foundations with a concrete that does not contain pyrrhotite. Foundation replacements are costly and estimates between $150,000 and $250,000 per home.
To learn more about this legislation and apply for assistance from the state specific fund please review the following FAQ from the Connecticut Department of Housing website. https://www.ct.gov/doh/lib/doh/cf_faqs_6.29.18_final.pdf